Cyprus Products for Export – Wine
Cyprus has a long history and tradition in wine making. There are written references to the Cyprus wine as old as 5800 B.C. Wines, which were named noble, godly, drink of the gods, sweet, calming and relaxing.
Today, Cyprus has brought the vine cultivation and wine making to the level of an important industry covering around 17.000 hectares of land giving more than 70.000 tonnes of grapes including table grapes of around 15.000 tonnes.
The dominant varieties of wine grapes of Cyprus are the indigenous, mavro-red, xinisteri-white and ofthalmo-red followed by maratheftiko, lefkas and malaga while other international varieties like the cabernet sauvignon, cabernet franc, mattaro, semillion, shiraz, grenache, carignan noir, palomino, chardonnay and sauvignon blanc, are making stronger appearance and gain significant importance in the Cypriot vineyard.
More than 70% of the annual production of Cyrpus wines are exported worldwide, with European countries being the main destination.
The industry comprises four big wine making concerns i.e. KEO, ETKO, SODAP and LOEL and almost fifty small-regional wineries which are located in the vine growing areas or not far from them.
Commandaria, the "Apostle of Wines", is a wine unique to Cyprus produced in an a strictly delimited area comprising fourteen villages in the Limassol district known as Commandaria region which gives its name to the only wine of Cyprus with Appellation of Origin status. It is a very rich sweet wine made from red or white grapes exposed to the sun for 4-10 days. For its ageing the "mana" system is followed which is comparable to the solera system of other countries. Its alcohol content is around 15% while its total sugar is 18 g/ml. It is found in different brand names but the name Commandaria dominates the label.
Most of the exports are carried out by the four big wineries who although have customers from all over Europe still welcome new inquiries and are open to cooperation.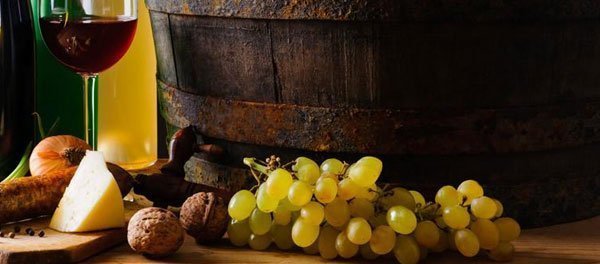 These companies are the largest producers in Cyprus. All make a wide range of table and premium wines, as well as fortified wines, aperitifs, Cyprus brandy, ouzo, zivania and other distilled products.
The Big Four, as they are known, are unique in the world, because of the range of grape products they make. They have built and maintained their businesses by travelling the world and supplying the needs of the markets. Today they are concentrating increasingly on building a Cyprus wine industry in which Cyprus-bottled quality wine is the most important part.
VACHOS WINERY ASSOSIATION – List of Members